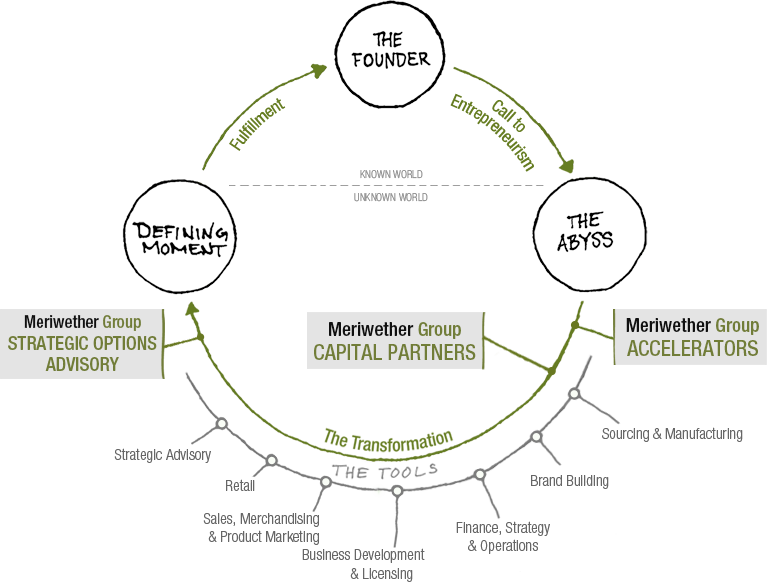 Whether it's an emerging start-up, execution help with key growth opportunities, an infusion of fresh capital or a graceful succession plan, every disruptive consumer brand has different needs and that's why Meriwether's services are as diverse as the clients we serve. Our personalized approach gives you the freedom to mix and match Meriwether services to best suit your company's needs. Think of our services as additional tools in your toolbox; a toolbox filled with everything you need so that you can fulfill your journey.
View Larger Services Diagram »
Service Groups:
Accelerators
Like a spark to a fuse, Meriwether Accelerators is the ignition point for any entrepreneur or business manager seeking to accelerate his or her business. Our experienced team has worked with the world's most recognized brands and the smallest of startups to help them realize their visions. Whether it's sourcing, product development, retail rollout, a defined exit strategy, or just the blast of renewed energy that comes from our fresh perspective, we'll roll up our sleeves and help you get there. And we'll do it while maintaining the original vision, culture and integrity of your brand.
Capital Partners
Meriwether Capital Partners provides entrepreneurs and business managers with a blend of capital options, financing expertise, and strategic vision. Smaller, short term bridge debt financing can be provided through a Mezzanine Debt Fund.
Strategic Options Advisory
As a trusted advisor, Meriwether helps entrepreneurs and business managers review and pursue strategic options. Whether it is negotiating with lenders, accessing outside growth capital, or seeking partial or total liquidity, Meriwether helps identify and negotiate all of your options while still preserving your original vision, culture and the integrity of your brand in the process.
Family Office
Meriwether Family Office is a registered investment advisor. All investment advice is always given by Meriwether Family Office, not by Meriwether Group or any other affiliate. Please visit http://meriwetherfamilyoffice.com/ for more information.
Accelerator Services:
Licensing/Collaborations & Business Development
Licensing can be a powerful tool when utilized in a manner consistent with the brand's values and positioning. Meriwether can improve your top line sales and bottom line contribution as well as your brand's overall reach through the formulation and execution of a brand right licensing strategy. We are also experts in identifying fresh and innovative partnerships that will reinforce your brand 's relevance with its target consumers.Once you have your partnerships in place, Meriwether can continue to help you through developing licensing guidelines and managing the licensees for the best, most brand-appropriate licensed product design and marketing.
Retail/Direct to Consumer
Meriwether has strong expertise in the retail space, specifically helping brands with their own retail portfolios and direct strategies. This includes creating retail roll outs for both full price and outlet options, working with best-in-class partners to create compelling retail concepts, and leading implementation in both the U.S. and abroad. It can also include other direct brand touch points like catalog, online, kiosk, and pop-up shops.
Brand Building
At Meriwether we are strong believers in the power of brands. We can help reinforce your brand's positioning with your consumer by helping you to more clearly articulate your brand's point of view, identify the right consumers to focus on, and determine the right vehicle to deliver your brand's message.
Sales, Merchandising & Product Marketing
Meriwether can help drive top line sales and contribution growth by optimizing your product engine as well as your overall go-to-market strategy. We have a proven track record of creating growth through identifying and executing new product initiatives, optimizing sales strategies and organizations, as well as driving bottom line growth through SKU efficiency, inventory management, and sell through percentages of key initiatives with essential retailer partners.
Finance, Strategy & Operations
We are not only brand builders, but we also have strong operational expertise. The Meriwether team can dig deep into your business to help develop a long-term strategic plan and drive operational efficiencies. We can also advise and guide you as you look at strategic options on how to finance for growth, partner, sell, buy or enter into joint ventures. We bring an innovative and differentiated approach that has proven to drive above market results and great alignment.
Sourcing & Manufacturing
Meriwether offers a broad scope of services both by optimizing existing sourcing strategies as well as identifying new partners, including but not limited to; product costing, product delivery timing from country of origin, and reducing air freight costs.
International Expansion
Meriwether can assist you in taking your brand and products into international markets in a way that makes sense, drives revenue, brand and enterprise value.
Food & Beverage
Our culinary alchemists believe food service has the power to transform health, strengthen relationships, and deepen connectivity when approached mindfully and with heartfelt intention. We love serving as an extension of our clients' executive teams, and have advised, accelerated and supported iconic and recognizable brands such as Dave's Killer Bread, Voodoo Doughnut, Stumptown Coffee, Water Avenue Coffee, Bunk Sandwiches, Little Big Burger, Alma Chocolate, ABC Kitchen, ABC Cocina, Kure Juice Bar, Garden Bar, Café Yumm!, Steve Smith Tea, Blossoming Lotus, and many others.
Publishing & Content Creation
Setting out to publish a book is considered an enormous undertaking. The time and focus required to compose, edit, and package a book for acquisition is beyond the scope of capability for many writers. Those on our publishing team have written, edited, and published books, and supported many others in their publishing journeys. As a result, we have established meaningful relationships with a number of houses and our experts provide relevant and thoughtful support so that your message is shared in a way best aligned with your vision and intent.
Real Estate Strategy
Retail is changing. The old way notion of "if you build it, they will come" is no longer true. Brick and mortar expansion needs a solid strategic plan to succeed.  The Meriwether team can provide you that strategy by analyzing specific markets and identifying submarkets that fit your particular customer demographics. We can partner with you to plan your retail expansion in one city or across the country, working with our strategic partners, and extensive network of brokers and developers.  We can also advise you as on a healthy rate of expansion for your company and provide help with the capital requirements that brick and mortar requires.